John Young, Perfect World Entertainment's vice president of business development and corporate communications, delivered an in-depth talk full of tips on getting a game funded and published at this year's IGDA Summit at Casual Connect Seattle. Drawing from his experience working with game developers who are looking to create top-tier, online games to add to PWE's roster of online free-to-play games, John provided great insights for those hard-to-answer questions.
In addition to that, John also spoke about what sells in big MMORPGs and why.
Check out the videos below for the full presentations:
read on
For many of us here at Wonacott, this is a week for which we spent months waiting (and preparing), and it looks like we're not the only ones! Yesterday was truly Death's day as Darksiders II launched at midnight and took the videogame industry by storm with reviews across top media outlets, including CNET and Destructoid, as well as consumer sites such as Maxim:

"After playing Darksiders II, if Death came knocking at our door, we'd totally invite him in for a beer."

"Darksiders II absolutely won me over."

"Darksiders II delivers a lot of what I'd expect to see in a proper sequel."

"Darksiders II takes the best elements from many games and blends them into a seamless, wholly satisfying package."
read on
If you're at Casual Connect today, come join John Young of major online games publisher Perfect World Entertainment (Wonacott client) as he presents the 20-minute lecture "What Sells in Big MMORPGs and Why" at 2:30 p.m. PDT. John's talk will focus on the secret to successfully monetizing free-to-play games.
When: Tuesday, July 24
Where: Benaroya Hall
3rd & University
Seattle, WA 98101
Time: 2:30 p.m. – 2:50 p.m.
read on
Check out Casual Connect's website for an in-depth interview with our very own CEO, Jason Wonacott, as he delves into the in's and out's of videogames PR, and offers insight into existing and future trends within the realm of interactive entertainment.
If you're a game developer or publisher looking for some advice regarding marketing your game (and the pitfalls to avoid) – or if you're just curious about how you can go from being a videogames nerd enthusiast to doing PR for them – then have a read!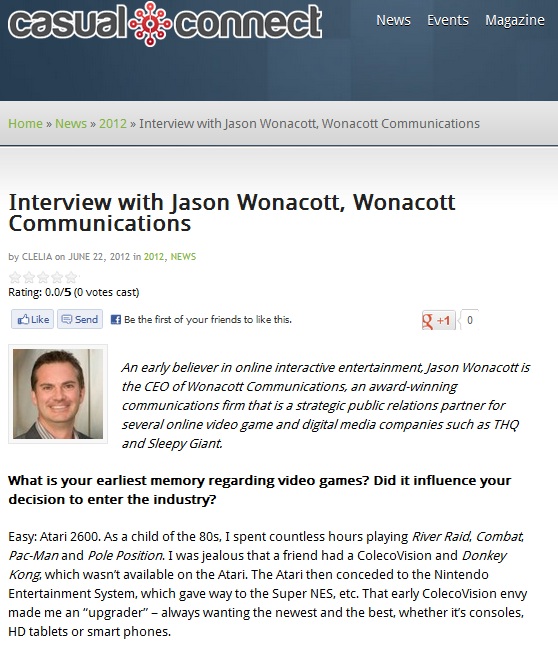 read on
If you happen to be traversing Southeast Asia later this month, stop by Casual Connect Asia, May 22-24. Our own Jason Wonacott will be there for a session on stretching F2P game marketing dollars. Alongside his industry peeps from iQU, SEA Gaming and BBC Worldwide, Jason will moderate the panel, which will address building new user bases in today's rapidly evolving global games market.
read on