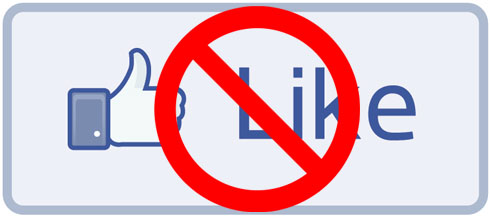 A Modest Proposal for Facebook as it Hits One Billion Users
I got a post on my Facebook wall the other day. A friend said something about a video I had "liked."
… But I couldn't recall liking any videos. I looked at my wall and didn't see anything either. Assuming I'd accidentally enabled some annoying app that alerted friends to what I was watching, I posted a status update apologizing for cluttering up their feeds with crap. I also used the opportunity to get a little dig in at Facebook – I'm pretty social media savvy, so I assumed that whatever I'd enabled had been especially sneaky about getting my permission to post on my behalf.
But as it turned out, it wasn't an app I'd enabled. It was a video advertising Facebook itself that they'd placed in my activity feed because I have, at some point in time, liked the Facebook page.
And that's when I got mad.
It's one thing for schlocky app developers to use the viral mechanics of Facebook to trick people into giving the app permission to make posts on their behalf. They have a product, they want to spread it and get millions of users and translate them into revenue. I get it. It's frustrating that Facebook lets some of these apps proliferate (though really the gullible among us are to blame for enabling them), but when you have a near-limitless open graph, it's to be expected.
No, where I take issue is with Facebook, for putting stuff out there in my feed, under my name without my explicit, timely permission.
But before I get into that, let me back up and give credit where it's due. What Facebook has managed to accomplish in the eight years since Mark Zuckerberg started it in college is nothing short of astonishing. As far as I'm concerned, Facebook is no less than the latest in a long line of breakthrough communications technologies, right up there with the printing press, the telegraph, the telephone, email, etc.*
And all of this brings me back to my problem with it. Given how incredibly influential the service is, and given how many and how often people use it (552 million daily active users on average in June 2012), there is nothing more important to users than ensuring we know what's happening under our names on there at all times.
So why is it so hard for Facebook to give us that control?
Here are some examples of what I mean. I have a friend who has at some point "liked" Metamucil, and every now and then, I will see in my Facebook feed a post that says something like, "John Doe likes Metamucil. Like this page too." And so I am regularly prompted to think about my friend and his apparent interest in getting more soluble fiber into his diet. Yes, John opened the door to this by "liking" a product that calls to mind prolonged toilet sitting and other bathroom emergencies, but when he did this, did he imagine that it would so come to define him online? I'm not entirely sure what the real world equivalent of this would be, but it would be something akin to him showing up at parties with an enormous orange tub of the stuff and openly spooning it into his drinks. (It should be noted here that the Facebook Metamucil team cautions strongly against mixing it with alcohol.)
On a similar note, I look back with mild horror upon a pair of John Fluevog loafers I bought in the late 90's. In case you don't know John Fluevog (lucky you), he was known for making whimsical 70's inspired shoes that were favored by a niche group of downtown New Yorkers, club kids, members of Dee Lite and readers of Paper magazine, all things I aspired to but in no way resembled. The pair I got were huge, block-heeled clodhoppers I would be mortified to be seen in now, but I wore with pride at the time. (Until a co-worker saw me limping around in them one day and asked if I had hurt my ankle, after which they were banished to a distant corner of my closet.) At any rate, you could certainly say that I "liked" Fluevogs at one point, but it would be disingenuous for me to go around advertising that fact for years afterward. It would, in fact, be "inauthentic," to use an advertising buzzword. It wouldn't reflect my change of heart (and fashion sense), and the fact that I no longer wish to count myself among Mr. Fluevog's fans.
But if I had "liked" him on Facebook, that's exactly what would happen, in a very public way. The catch to this is that somewhere in Facebook's byzantine account settings, it gives you the option to disable social ads. However, because Facebook has never proactively informed users that their likeness is being used in these ads, many of us have no idea how, when, where or why it's happening.
In his recent blog post about reaching the milestone of one billion (!) users, Mark Zuckerberg says, "We believe that the need to open up and connect is what makes us human. It's what brings us together. It's what brings meaning to our lives."
I agree with his sentiments wholeheartedly, and I appreciate what Facebook has done to help us in this regard. But if there's anything I can claim to know about human behavior at all, it's that the only thing you can control is your own actions, and the way in which you move through the world. Not your family, not your friends, not your job or your relationships or anything else that "brings meaning" to your life.
Imagine if your phone made random calls when you weren't aware of it. Or if your email service sent out messages raving about products you've mentioned to people in your contact list, apropos of nothing. That's essentially what's going on with Facebook's social ad program.
The examples I've cited are pretty harmless – things could be worse than being known for being a little irregular – but it's actually the timeliness of these posts that's most objectionable. Say Facebook puts something in my feed about my having liked a page or video or whatever, and at the time it posts I am out, say, running a charity race for which I have raised hundreds of dollars from friends and family. Wouldn't they then question whether I was actually out doing what I said I was doing? This is an extreme example, but there are many more lower stakes situations that can raise the same question. And it's not a minor question. All of the small actions we take every day, and the times we take them, play a part in the way people relate, or "connect," as Zuckerberg puts it, to us.
His blog post continues: "We honor the humanity of the people we serve. We honor the everyday things people have always made to bring us together: Chairs, doorbells, airplanes, bridges, games. These are all things that connect us." While it's true that all of those things connect us, it's also true that all of those things are completely under our control. We can choose to use or not use them to our own ends.
Not so with Facebook. I've long been aware of the ways in which it's come under fire for not being transparent about privacy and advertising practices, and mostly I've been willing to give up my personal information in exchange for the free service it provides. Like many people, every time a new story breaks about another privacy breach, I get upset and threaten to quit, but I don't. Because I still find it too useful. However, this most recent development of randomly posting stuff in my timeline really does seem like the last straw.
I'm well aware that Facebook is under tremendous pressure to make money for shareholders. And I want it to, because I think it's a valuable service, and I think Facebook employees do care about making something good. (As an aside, a friend of mine who works there sent me a message and offered to help when I made my status update about the errant video post.)
But hijacking my news feed and turning me into a semi-willing product shill for advertisers is not the way to generate revenue in the long term. All it does is make me more and more distrustful of all parties involved – not a good strategy for ensuring that I remain a revenue-generating cog in the Facebook wheel.
So, I'm just going to say it: If Facebook can make it so that I have the option to have full control over how my profile and likeness appears on the service, I might even – gasp – pay for the privilege.
I can't be alone here. And I also can't imagine that I'm the only one who's ready to defect to a competitive service that can and will give me that control when the time is right, even if there's a dollar sign attached. It's only a matter of time before one pops up, isn't it?
Maybe it's time to check out that MySpace revamp…
*Yes, there are other social networks that enable the same kind of communication, but given the fact that Facebook is the only one that has been widely adopted, that's the one we have to work with (for now.)
back